With online sources at our fingertips, many creative homeowners get to work with home improvement projects. For staters, landscaping is a common weekend project that will increase curb appeal and add owner's taste to the home's appearance. Today, we are discussing landscaping lighting, outdoor lighting, and lifestyle lighting.
Landscape lighting: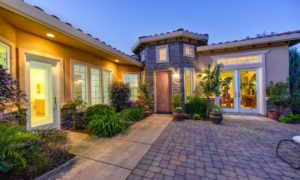 When house hunting during this competitive time, buyers may be deterred from even touring the inside of a house if the appearance is less than expected. Seasoned realtors remind buyers of the possibly easy changes to a yard's landscaping that will drastically increase its curb appeal. In some cases, a bougainvillea may be your favorite part of the yard.
Some others love showcasing their tended-to roses. Whatever the favorite part of the yard may be, it can be showcased with uplighting. Outdoor sculptures, water features, wall planters, or an old oak tree are all perfect candidates for uplighting.
Landscape lighting adds value to a home. Driving through a neighborhood, the eye will be drawn to homes that have uplighting, matured landscape, and depth. Shutters, patios, and luscious greenery bring buyers in. Whether you are looking to add your own flare to your new home without spending thousands of dollars or just looking to make your home stand out on the block, consider yard or garden lighting by Sanford Electric Company II, Inc.
Room to gather:
Patios, docks, and fire pits become transformed with the help of outdoor lighting. Discuss your options with our experienced electricians because this hits two categories- safety and style. Often times, an American's first home is not large enough to have multiple couples over and their kids for get-together.
A smaller home may become too loud and crowded to enjoy. Outdoor entertainment space is advantageous for such predicaments, and outdoor lighting really increases the chance you'll use the outdoor space. Outdoor dining, swing sets, tree houses, and corn hole areas are just a few outdoor settings that you may add a few lights.
This type of lighting can be temporary such as lights purchased from a home improvement store. However, these are not permanent and do not add value to the home. LED solar powered lighting is just one energy-efficient outdoor lighting option.
Add lighting for curb appeal and functionality:
Adding lights around a grill is another practical idea. Shouldn't the cook see what is being grilled? Swimming pools should always be lit at night- when having guests over especially. LED lights can play off of water creating a delightful ambience.
Remember, adding lights will not have to drastically increase your energy costs. LED is very electric bill friendly. In one year, one LED bulb can save close to four dollars as opposed to a traditional incandescent bulb.
If you are more glamorous and enjoy a little sparkle everywhere you look, a chandelier may be your answer. Who said outdoor lighting had to be bland? Have an outdoor grade chandelier installed over your  patio dining area to ensure it is secure and weather resistant.
A dimmer is spectacular entertainment option to consider for creating the perfect "COVID-19 approved" anniversary dinner. The dimming option can also extend dinner parties past eleven as the lights are not as disruptive to neighbor's sleep.
Drop by next time to learn about house remodels of all kinds. With the help of Sanford Electric Company II, we aim to make electrical work your lowest cost. Stay safe and informed!
Staff Writer