In recent weeks, we have discussed ways Central Floridians can update home lighting and appearance without breaking the bank. There are more ways you can do this at home or by hiring a Sanford Electric elections, so follow along as we share these budget friendly home improvement ideas. Let's start out by wrapping up the living room segment of ambient lighting and move onto budget friendly lighting improvement ideas.
Living room ambient lighting:
Last time you stopped by, you read about the most practical ways to illuminate a living room. Readers learned about accent lighting, cove lighting, valance lighting, and soffit lighting can come together to create beautiful layers of light. More recently, interior designers have expressed home owners looking for an updated, soft living room ambiance should veer away downward facing or recessed lights.
Budget friendly lighting improvement ideas: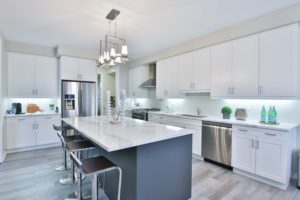 As much as the kitchen is a spot of practicality, it is also a spot for gathering and socializing. This is why the kitchen requires careful consideration. The kitchen must be aesthetically pleasing as well as sufficiently lit for everyday food preparation tasks.
Most of the dangerous work in a kitchen takes place on the counters. This is where the cutting takes place. Additionally, the sink must be sufficiently lit as well while cleaning sharp knives and smoothie blades.
Here is where tasks meet style. One main reason sinks are placed in front of a window is due to the natural lighting provided in this area. Lighting experts agree with the layout, so if you are building a home consider these helpful tip. During a remodel, you may also have the option to move the sink to this ideal location.
Recessed lighting is very useful for areas that require ample light. Place recessed lighting above the sink. In style magazines, you may also see fun fixtures such as mini chandeliers above the sink. Under-cabinet lighting is fantastic for illuminating the working countertop surfaces.
This is very aesthetically pleasing. Additionally, this will not cast shadows as recessed lighting on a ceiling would do. When thinly slicing onions with a sharp cutting knife, it is unsafe to have large shadows making it hard to see clearly.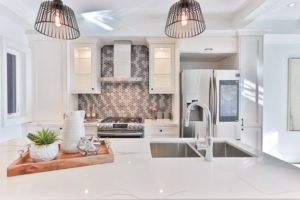 Alternatively, you may already have track lighting or recessed lighting illuminating your kitchen area. If you want to add a nice layer of useful lighting, add LED strips under your cabinets. The light may be too white or blue for your kitchen colors, so contact a Sanford Electric lighting expert to discuss what would look perfect in your kitchen.
Central Florida hurricane preparation:
When preparing for hurricanes, Central Floridians tend to become overwhelmed with the long list of necessities. Truthfully, you most likely have most of the items laying around your house or in your garage from past hurricane seasons. Gather up items and tally them up.
Gather up items around the house such as:
candles
vases
batteries
battery operated fans
solar powered lanterns or fans
grills
generators
canned goods
water bottles
filtered water pitchers
From May 29 to June 4, locals can stock up on select hurricane supplies tax free! Join us next week as we discuss the items you will need. Furthermore, return for current generator technology.
Contact Sanford Electric Company II for informative hurricanes preparation procedures regarding electricity and more budget friendly lighting improvement ideas.
Staff Writer