Last week, we shared useful ways to improve your home's appearance and value without a total remodel. Our lighting tips for every room in the house may inspire you to call and schedule a time for an experienced electrician to discuss your options. Room makeovers may be as simple as new lighting fixtures or rewiring, so read further for part two of our living room lighting tips series.
Living room lighting tips:
Check out the last blog, and then come on back to continue this interesting conversation. Specialists say the human tendency is to visually perceive vertical planes. Basically, this means people rather look up towards the ceiling rather than look down towards their feet.
As we have discussed on multiple occasions, installing valance or cove lighting to a room's architecture does the trick quite nicely. This is the type of lighting that will bounce the light softly off of the ceiling. Similarly, a more safe DIY upgrade involves a bookshelf makeover.
All that is involved is a strip of lights which cam be purchased at any home improvement store or online. Next, you need a bookshelf, whether it is one you already have or some people opt in for built-ins. Lastly, put the LED light strips behind the books on each bookshelf level.
Entertainment centers are great for this trick as well. This will not give off enough lighting for a whole room, but this does add a nice layer of dimension. There is also an opportunity to add a piece of millwork.
Try out putting linear fluorescent behind the millwork. They have good color rendering and a warm appearance. Washing the walls with light is another way to provide ambient living room lighting. Soffit, valance lighting, recessed, or track lighting directed towards the walls will provide a nice light washed wall.
Wash the walls with light: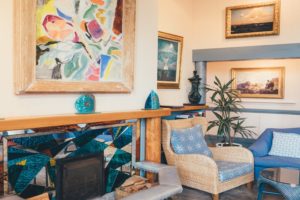 Plugging in a floor lamp torchieres with upward facing globes will do this on a much more basic level. IT will wash the walls with light but it will not look as great as getting a long-term lighting upgrade. Interior designers share that task lighting can add another detail and layer of lighting in a living room.
Task lighting should be just as stylish as it is practical. Task lighting may be used for just that- tasks. This is necessary when the room lighting is soft. No need to strain your eyes while reading your favorite summer reading.
Place a nice apothecary-esque reading lamp with an LED or incandescent light bulb for a trendy task lighting situation.
Accentuating the details:
Accent lighting is another necessary style component for any living room. Modern, eclectic, farm-house, and rustic styles all incorporate accent lighting. This sort of lighting highlights works of art, photographs, or even is art in itself casting an interesting shadow.
If your family has a painting handed down the generations, place accent lighting on this prized possession. This is a great way to show what you are most proud of. If you love your plants and would like to bring more attention to detail on every leaf and shade of color, uplighting is your answer.
Come back next week as we wrap up lighten for living rooms and move onto other rooms in the house. We appreciate everyone that continues to show support for local businesses. Make a call for your next home's electrical projects.
Staff Writer