Whether you have an electric problem in your home, an outlet not working, fuse that keeps tripping, warm switches, flickering lights or you need a ceiling fan or smoke/carbon monoxide detector installed, you may be tempted to tackle it yourself. 
Don't Risk It: Hire a Licensed Electrician

 
There are many reasons why you should hire an experienced electrician,  including safety,  warranty, prevents resale issues, save time and money. It will also give you peace of mind it is working properly. 
Here are a few instances, you should hire an electrician instead of doing it yourself.
Outlet Installation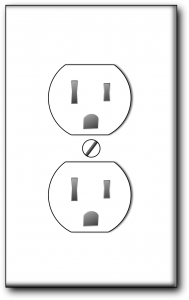 Whether you have an older home with an outlet that isn't working properly or a new house that needs a few extra outlets, installing them should always be done by a professional. Improperly installed outlets not only violate building codes, it can be very dangerous.
Flickering lights
If a flickering light needs more than screwing in a lightbulb tighter, it's time to call a professional electrician. It can be an indication of an overloaded circuit or loose electrical wiring. It is important to resolve the issue with a proper diagnosis.
Warm Outlets or Switches
When an outlet or switch is warm (or even shocks you) to the touch, it is an indication there is an overloaded circuit or potentially something more dangerous. 
Smoke/Carbon Monoxide Detectors

 
It is critical for any type of smoke or carbon monoxide detector is installed properly. They are essential for the safety of any building. 
Fuse That Are Frequently Blowing
Just like warm outlets or switches, a fuse that is blowing frequently is an indication of an underlying problem with your circuit. Constantly resetting the circuit breaker or replacing fuses could end up causing more damage. 
Not all home or business owners know an electrician they feel comfortable with and can trust
As a leader in the industry, Sanford Electric Company is a fully licensed & insured electrical contractor company dedicated to providing professional electrical services at competitive rates. Family owned and operated since 1925, we provide electrical repairs & installations for commercial and residential properties in Orange, Seminole, Lake, Volusia, Brevard, and Osceola counties.
Our licensed and professionally trained technicians can tackle any size job, large or small, with an emphasis on professionalism, integrity, & quality electrical workmanship. Contact us today for more information