Electrical issues are not only annoying, they are dangerous. Fuses blowing, outlets not working, flickering lights, trying to troubleshoot and repair them yourself may sound like a good idea, but it is very dangerous.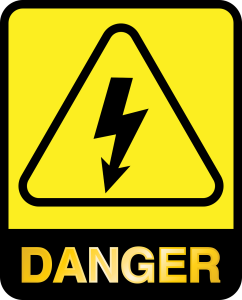 If electrical work doesn't go right, it can cause injury or death
Doing electrical repairs yourself puts you at risk for starting an electrical fire.
Electrical systems are usually more complicated that you expect. It just takes one misstep to lead to disaster
To keep the value of your home, electrical repairs must be done to code.
DIY or Contact An Electrician 
You may not have to call an electrician for every situation, but here are a few times you should 
Electrical outlet replacement or repair 
While it may sound simple enough, there is a lot more to it than loosening some screws and turning off the circuit breaker. Not to mention, if it isn't done right, it can end up causing significant damage or even a fire.
Replace or repair electrical panel 
The heart of every home's electricity is the electrical panel. It's where it all comes together, it can be very confusing and dangerous. It is definitely best to leave any repairs or renovations up to a professional electrician.
Ceiling fan repair 
Ceiling fans are basically a necessity here in Central Florida, but they don't last forever. Whether it comes to a sudden stop or making strange sounds before coming to its demise. Having a new one installed means rewiring and should be left to the knowledge and skill of an electrician.
Have An Electrical Problem?
If you have any type of electrical issue within your home or business, Sanford Electric Company is here to help. Locally owned and operated, we guarantee customer satisfaction.
For the safety of your family, it is important your electrical system is working safely and efficiently. Ignoring issues, especially those caused by older wiring, can pose a fire threat.