A well thought out bathroom serves its purpose, but it also makes every day a little easier. Today, we are sharing ways to make your residential bathrooms better with lighting and design tips. Follow along in today's blog as we share about lumens and luxury.
Why bathroom lighting is important:
A dull lighting scenario is very depressing and discoursing. Waking up and walking into a poorly lit bathroom is one of the worst ways to start the day. A bathroom must, of course, serve its purpose, but it also provide a sense of ease and serenity.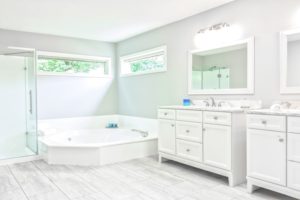 Bathrooms are very make or break when selling your home. When bathrooms or kitchens are not up to buyers' expectations, the house can quickly be crossed off their list. Keeping a home's bathrooms updated shouldn't cost an arm and a leg though.
Contact experienced lighting specialists to transform any space with the right lighting and electrical upgrades. For readers remodeling or thinking of remodeling, we are thoroughly trained to walk through all the first steps with general contractors. End results in mind will come into magnificent fruition with the right team.
Last time you stopped by, we shared design details that are both practical and full of tasteful style. This week, we are offering more technical knowledge. First, we started by sharing information on half-baths, or powder rooms.
Jack and Jill bathrooms in new builds:
This year, many general contractors are requesting Jack and Jill bathrooms in new builds. When clients ask for floorpan options, there is always the classic master bath, a private bath, a bathroom in the hallway used by anyone, and a Jack and Jill. A Jack and Jill bathroom is a bathroom connecting two rooms with doors at each entrance.
It is a great option for families with more than one child. Bedtime preparation is cut short because there is more space to use the toilet, brush teeth, and take a bath. Also, it is a great option for the elderly or families planning on housing their elderly parents one day.
Updated bathroom lighting plans:
Jack and Jills make it even easier for caretakers to quickly tend to the elderly or children. These are all very practical reasons to have a Jack and Jill, but just like a master bathroom, these layouts usually both have two sinks and large counter space. This presents a great opportunity for lighting specialists to install sconces or pendants.
Unlike older bathrooms which may only have one central ceiling-mounted fixture in the entire bathroom, modern bathrooms have at least two light fixtures. It is very common to one fixture above the mirror and one in the ceiling above the shower, usually recessed. An improved lighting plan would eliminate outdates, insufficient light fixtures and replace them with three wall sconces- one on the left of the mirror, one on the right, and one above the mirror.
Also, there would be recessed lighting above either the toilet or the shower to spread the light. Ambient lighting in a bathroom should be four to eight thousand lumens. Task lighting should be at the mirror at a minimum of 1,700 lumens. Come back next week as we share more insight into updated bathroom lighting plans.
Staff Writer