In the most recent blog, we shared plenty of valuable information, so pop back over there if you have not yet read it. Last time you stopped by, readers were informed on great lighting ideas for kitchens. Today, we are moving onto bathroom lighting tips.
Bathroom lighting:
For readers remodeling or thinking of spicing your home's lighting up, follow along through this month's house lighting series. As seen on the left, you will see the lighting is extremely insufficient. Similar to the kitchen, the way lights reflect in the bathroom can truly transform the appearance of the space. Since the 1950's, the average house size in America has doubled.
When discussing the average size of the American residential bathroom, we must first break down the differences between the common floor plans of bathrooms. First, we have the powder room which is usually called a half-bath on real estate listings. They can range form eighteen to thirty-two square feet big.
In other words, the space is about three feet wide and four to eight feet long. In older homes, half-baths were around eleven square feet! For clients in the Historic area of Sanford, homes may possibly still have these smaller charming powder rooms.
While working with a lighting specialist at Sanford Electric and interior designer, you may discover there are ways to shift the focus from the small square footage to the stylish impression. Leave your family "wowed" when they leave the powder room. This will also add value to your home.
Designing a 2020 powder room:
First, pick a unique wallpaper or mural. In small rooms, it is tasteful to make a large statement. This is the home's "fancy" bathroom, so go for your more eccentric options here. After you picked a nice base layer, think of the lighting.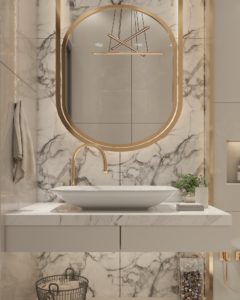 Choose a pendant or sconces that will make the room feel bigger. The goal is to light the room without blinding guests. Lastly, flooring is important as well.
In historic homes, the flooring may still be the original hardwood floors, but if they are not salvageable, opt for a tile that is not reflective. Woodgrain ceramic tiles are extremely popular and flatter the home's original aesthetic. In newer homes, this tile adds texture and is great for resale.
Most importantly, this tile does not reflect like some marble or glossy tiles would. In a small or large areas, this is important when creating the perfect lighting in every room. Florida is known for gorgeous sunrises and golden hours, but it can be rather painful to be temporarily blinding by the sun's reflection bouncing off the floor.
Residential remodels and repairs:
For remodels, these are all options many new home owners just aren't aware of. When choosing flooring, people usually just pick the option that best matches their taste. For those that gravitate towards shiny, glittery fixtures and details, it can be very risky when picking out flooring.
Do your own thorough research or simply speak with a lighting designer specialist at Sanford Electric that can oversee the entire process. From underground, in the wall, and overhead lighting needs, our company has the experience and manpower to offer you a beautiful outcome.
Call us today to discuss residential lighting upgrades or repairs. Come back next time as we share tips for children and master bathrooms lighting options. Stay safe when leaving the house by wearing a mask and keeping a six fee distance from anyone that does not live in your home.
Staff Writer