Previously, we spoke of variations of lighting and the way they make us feel. Not only does the lighting affect the way we feel, but lighting determines the functionality of different spaces. Today, we will discuss how people choose a kitchen lighting option.
Consider lighting a top priority for kitchen design:
Despite lighting controlling people's first reactions to a space or even the way they use their time in a space, lighting tends to be the last detail for too many remodels. Usually homeowners first think of their new countertops or pantries.
They window shop around for stunning appliances and backsplash. Meanwhile, many do not plan their lighting set up. As we know, lighting accentuates a room's strong suit or most productive area.
Layering the light:
There is not one method of lighting alone that will elevate a kitchen's lighting quality. Although some fixtures may multi-task lighting duties, the first step for lighting a kitchen is understanding the four layers of light.
Where do you work on work or household to-do lists? At your built in desk. With task lighting, spaces such as the pantry and countertops are well lit, so you may clearly see what you are chopping or choosing to eat soon. Task lighting is for none other than your task areas.
Track lights are generally in just about every house built in 1990s kitchens. Accent lighting adds dimension and depth to an environment. Adjustable light fixtures and track lighting are part of the accent light category.
Let's get to the good stuff. Decorative lighting what we call eye candy of a kitchen. It is the architectural bling and stunners. Decorative lighting serves as an interesting feature to a space. Chandeliers and sconces are just two examples of these elegant decorative lighting features.
A gentle light that fills a room is called ambient lighting. This is the opulent layer of light that may be provided by pendant indirect lighting. The ambient lighting provides an even base layer of light. This is sometimes referred to as general lighting.
All layers must work together for kitchen lighting: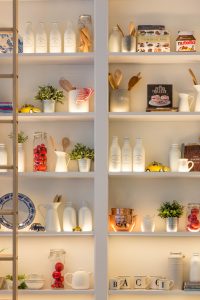 Remembering that one layer of lighting cannot perform alone, ambient lighting cannot be the sole source of lighting. It will make people appear edited or "better looking", but it also creates a cloudy effect in the kitchen. This is not something you desire when chopping with sharp knives.
If only accent lighting is added, it creates a museum effect. The objects of the room are well lit, but people tend to fall into the negative space creating a cold vibe. Experts say you are telling your guests that your belongings are more important than the guests in the room.
Simply put, only adding decorative lighting distracts the eye. A dining room with just a chandelier and no other lighting methods is a perfect example of this mishap. Basically, decorative lighting cannot stand alone.
Rest assured, layering the four layers of light creates an idyllic space. Remember that one light fixture can provide two layers of light. Pendants lights, for example, can shine light onto the ceiling spreading an ambient light. But it is also a layer of decorative lighting.
See you soon:
Thank you for stopping by this week. We hope this first portion of the layers of light for kitchen lighting helps your mind wander. Start brainstorming and schedule an appointment with Sanford Electric Company II, Inc. for your remodel or new construction kitchen lighting options.
Have a safe and great St. Patrick's Day!
Staff Writer