The goal of this Perfect Kitchen Lighting series is to inspire our readers. We hope to inspire you to work with what you have or to do a kitchen facelift with our expertise. Now, we are going to share how to make your to make kitchen inviting with some changes in lighting.
Bring your eye into the kitchen:
For years now, the most desired floor plan in homes has been an open floor plan. This is functional and modern. However, it puts your kitchen next to other important rooms in the house.
Here is how we make the kitchen flow with other rooms while differentiating between living room and kitchen space. Pick lighting that relates to the adjacent rooms. The spaces do not have to match perfectly. The lighting fixtures should correlate. It may be best to put bronze fixtures in your kitchen if the other rooms incorporate bronze touches.
This translates the kitchen and adjacent rooms into one space as a whole. To stay with current trends, avoid multiple small fixtures. In the past, we saw three dinky pendant lights hung above kitchen islands or bar. This is no longer trendy.
Picking pendants:
Bolder and bigger is better. Opt for large statement pendants. Also, think: fewer the better. Designers recommend one or two large pendants over the kitchen island.
Take a look at opaque fixtures. Notice how they do not give off the right light? Choose a translucent pendant that provides the ideal glow.
Fixtures with a lens on the bottom hides the bulb underneath while providing a glow. This is the goal. Get funky with different shapes of pendants. There are spectacular cube and drum-shaped lights that add an interesting pop to a kitchen.
To make the kitchen feel like a space for all to gather around, families are starting to put pieces of art on the kitchen walls. Of course, it may not be functional to put a black and white family portrait above the stove. But it is a sweet idea to put it next to the entrance of the kitchen or bar area.
Recessed lighting compliments the art in your kitchen. It creates the "living room feel" you desire in a kitchen without having a couch next to the microwave. Are you following?
Glow all around: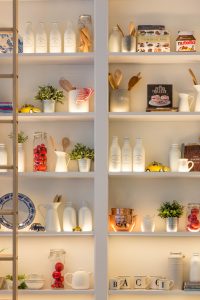 You may never crack the code of how to make an all white, modern kitchen feel inviting and homey. Here is the big tip: open shelving and glass-front cabinets. Stay with me. The open shelving and glass-front cabinets are usually areas for showcasing homemade pottery from your grandkids.
Or it may be just the opposite. You may desire to display your fine china on these shelves. Holistic and organic families should consider putting spices into jars for colorful yet uniformed detail.
Whatever the case may be, adding lighting inside the glass-front cabinets and open shelving creates another layer of dimension. This adds another element for the eye to catch onto. Overall, it makes the kitchen a more interesting and comforting space.
Down below:
Night lights are for safety as much as they are for comfort. Why not incorporate this into the kitchen. Toe kick lighting consist of lights installed underneath the base cabinets.
They accentuate the floor and cabinet contrast as well as serve as a night light. Often times, home owners have the toe kick lights on their own switch for late night snacks. This is especially convenient for floorpans which have a kitchen next to bedrooms.
Similarly, when you to the kitchen for a midnight ice cream scoop and look for a spoon, it may prove to be pretty difficult. Upscale houses are catching onto an upgrade that is very practical. Under the edge of a countertop, there is a lip.
A groove can be made under the lip of the countertop. Lights are available to be installed in that groove. They can open when you open a drawer creating a safe way to get out a sharp knife or find the ice cream scooper at midnight. When remodeling any home but especially those in higher price points, include the under-counter lighting.
This is all a lot to take in. Read our last blog as well as this week's for kitchen lighting inspiration. Call Sanford Electric Company II for the ideal kitchen lighting package. There is no one size fits all. Make an appointment to design custom kitchen lighting.
Thank you for stopping by and come back next week for more!
Staff Writer