Electricians are your best friend for installing LED lights during large remodels or when building your dream home. Families are choosing professionals such as those at Sanford Electric Company for residential services that will help their home reach its potential. For remodeling or improving your home's energy-efficiency, a qualified electrician will help your vision come to life.
Designing a new home:
Consider investing in energy efficiency when building a new home or remodeling. It will save money and energy plus add to your home's value. According to the Department of Energy, there are sources to help with the financing of an energy-efficient home.
When building a new home or an extensive remodel, optimizing home energy-efficiency requires a whole-house systems approach. Occupant behavior, site conditions, and climate are just a few of the largest factors when considering energy-efficiency.
Look over what type of appliances and home electronics your home has. Lighting and outlets can be replaced or may need work. Have you ever heard a light switch buzzing? There are plenty of opportunities for home improvement which electricians at Sanford Electric Company specialize in.
How LED lights benefits you: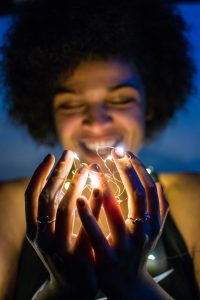 Many people see the LED option on porch lights, Halloween decorations, and lamp bulbs, but not many people know how they benefit you besides lasting longer. LED stands for the light-emitting diode.
This rapidly developing lighting technology provides an energy-efficient way to light up rooms or outdoors. LED lights have many characteristics that appeal to home owners. Electricians should be of great assistance finding the perfect LED lighting fixtures for your home and patios.
LED lasts longer and are more durable. Most colors emitted by the LED lights do not attract bugs which is incredibly necessary for outdoor spaces. For indoors, LED track and shelve lighting can add depth and interior design to a space.
Why LED is ideal for homes:
Recently, electricians have been installing inside-cabinetry lighting, closet lighting, and counter lighting. Have you noticed all of the crisp white and light grey home decor in magazines, home improvement shows, or stores lately? For the popular bright white and grey color themes for house decor, the LED is the best option for providing a clean and white light.
Other lighting can make a white wall appear to be tan or beige. Similarly, interior designers assisting in designing new homes recommend LED lighting. If you have an interior designer, schedule a meeting with your electrician present as well to choose the best lighting option for you.
Have you ever noticed how the paint colors look so different at home improvement stores? The displays are usually lit with LED lights which makes the paint color appear completely different once you're home. LED lights are directional which are great for reading spaces.
Recessed downlight are often used in residential kitchens, bathrooms, hallways, and offices. The Department of Energy estimates there are around 500 million recessed downlights installed in U.S. homes each year. They are common for a number of reasons, so speak to your electrician about the installation process.
Energy star rated products can use about 75% less energy and last 25 times longer than incandescent lighting. By 2027, the use of LED over incandescent lighting can save up to $30 billion at today's electricity prices. This is around 44 large electric power plants worth of output.
LED Halloween lighting:
At the end of this month, home owners will be plugging in their Halloween decorations for trick-or-treating. Plenty of people decorate just as much as they would for Christmas. Because of this, it is safest to start incorporating more LED lights.
LED lights are safer because they are much cooler than incandescent lights. This reduces the risk of combustion or burnt fingers. LED lights are cooler to the touch which make them safer for animals and children.
Investing in LED holiday decor will pay off especially if you plan to keep them on for the entire month. LED lights last longer and are sturdier. LED are made with epoxy lenses instead of glass. Epoxy is stronger and is less likely to break.
You may buy stringed ghosts and goblins that will last up to 40 Halloween seasons! LED stringed lights prove to be easier to install. They can be connected end-to-end without overloading a wall socket.
Thank you for reading this week's blog. Check back in next week for more electrical news. Be sure to implement LED lights in this Halloween season for savings and safety!
Staff Writer