Electrical safety can be easily forgotten when picking out spooky, festive Halloween decor. Keep in mind the safety of your family and neighbors by following our tips for electrical safety. If our tips do not clear up your questions, call Sanford Electric Company to schedule an appointment with a qualified electrician.
Choosing the best decor:
It's the time of year to seek out creepy and goofy Halloween decor. You may focus too much on the look of them rather than the safety and integrity of the decorations. You may have put out a pumpkin and a fall wreath, but perhaps you're considering going overboard like the Griswolds on Christmas.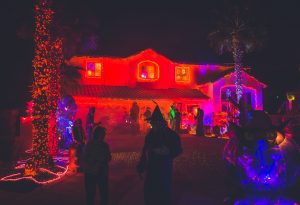 When purchasing new decor or bringing out old decor, check and inspect the items thoroughly. Whether you are decorating indoors, outdoors, or both, confirm you are using appropriate decor for the chosen location. We aren't speaking of putting scary decor in the backyard and sweet decor in the front. We highly advise you to take the time and inspect your decor to determine if it is meant for indoors or outdoors.
Before plugging in any decor, check for damage. There shouldn't be any frayed wires, cracked wires, or faulty plugs. All three, or even just one, of these damages can cause a fire. If you find any damaged decor, dispose of it properly to avoid accidentally using it. The same goes for extension cords.
Many decorations have thorough item descriptions on the packaging. Do not dispose of the original packaging until you have read this useful information. The packaging descriptions you should look out for are flame resistant, flame retardant, or non-combustable. These are safer alternatives to other rather dangerous decorations.
It is crucial to put indoor decor inside your home and outdoor decor in your yard or on the exterior of your home, unless stated otherwise on packaging. Certain indoor decor can break outdoors. Similarly, some outdoor decor items use different outlets than ones found inside. Outdoor decor should be durable enough to withstand UV rays, rain, and wind.
The installation of the decor is just as important as the safety instructions. If you are not confident in your installation capabilities or are unsure how to inspect your decor, contact a qualified electrician.
Electrical safety and flame safety:
You should of course reuse old decorations, but if they don't pass your inspections, consider purchasing new decor with LED lights. Most modern decorations use LED lights which decrease the risk of fires and burns.
An LED candle placed inside your carved jac-o-lantern can give your pumpkin the same lantern affect without the risk of fire. If you don't have an LED candle, use a regular flashlight!
Children are also at risk when real flames are used. LED candles can be purchased for a dollar at many stores. They should cost the same or less than classic candles.
LEDs are also more durable and aren't easy for kids to break. LED lights are much less likely to overload an outlet. Add up all of the power being used by the decor by checking their cords and packaging. The sum of the power used by the halloween decorations shouldn't exceed the capacity of the extension cord.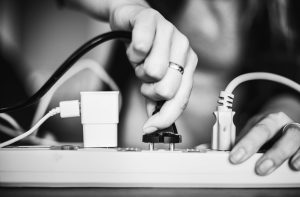 Extension cords should be appropriate for the area. Double check that you are using outdoor extension doors for the outdoors. Outdoor extension cords are more durable and are suited for severe weather.
To keep organized and prevent falling, you can buy plastic hooks to run the cords along walls. Never use any sort of metal, staples, or nails to keep cords out of the way. This can cause electrical shocks and damage to wires.
For outdoor displays, be careful about wet grass or water collecting in certain areas. Puddles can cause damage to your decorations or worse, electrical shock. To protect everyone from getting shocked, make sure you are using ground fault circuit interrupters, or GFCIs.
Seek help for assistance:
There are well qualified electricians available to you at Sanford Electric Company. Do not put off electrical safety. Electrical shock or house fires aren't the scares you want on Halloween.
Thank you for reading this week's blog on electrical safety. Check in next week to read about more electricity news. Save time after the decorating for finding the perfect Halloween costume!
Staff Writer